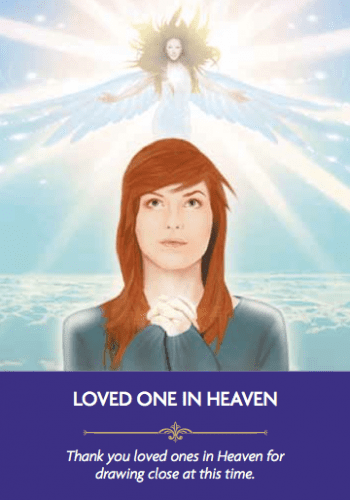 "Thank you loved ones in heaven for drawing close at this time."
The Angels are bringing through a loved one who is in Heaven at this time. They want you to know that their energy and support are always with you. Your loved one in Heaven is drawing extremely close to you and wants to help heal any remaining pain or feeling of separation that is within your heart. Take time to acknowledge and remember them, for this will allow you to feel their love.
The energy of a loved one wants to help you move forwards in a loving and safe way. If there is someone on the other side whom you miss or have unfinished business with, this is your opportunity to make peace with them. Please know they are offering their love to help remove anything that's holding you back and are asking you not to feel guilty about anything at all. They have found eternal peace in Heaven with the family who have gone on before them.
Deck: Angel Prayers Oracle Cards
Author: Kyle Gray