OVERVIEW
Sessions will include distant healing along with aura cleansing. You can choose if you'd like Reiki Healing, or Pranic Healing. I am also offering a combination. Both of these healing approaches are very effective.
All healing sessions include a Chakra Energy Report that includes messages, and also a card drawn from The Food Healing Oracle Deck.
When you receive healing from me, it's an incredible healing along with a reading from your body and energy fields.

DURING
You do not need to be present for this healing. Try to pick a time when you are sleeping or when relaxed. I will e-mail you when the healing session is complete. If you have something in particular you'd like me to focus on during your session, please note it upon booking.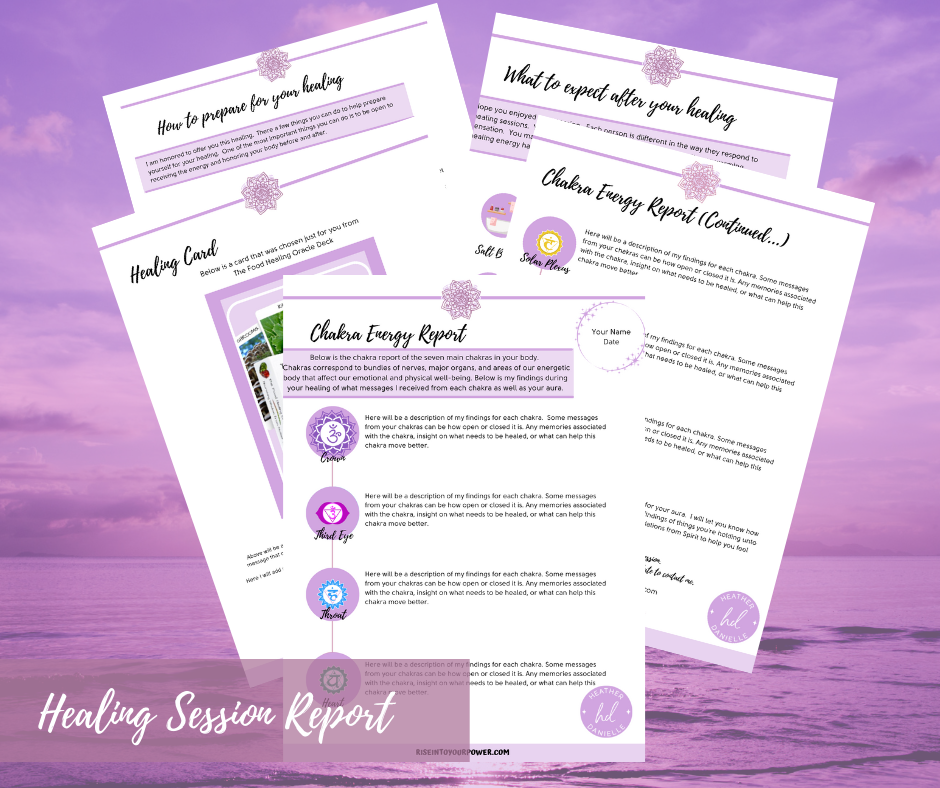 AFTER
After your healing session, you will receive the following via email:
CHAKRA REPORT:
I'll tune in to your main 7 chakras and provide you with guidance that is given to me. Which also includes insight on your overall aura (energy field).
CARD READING:
I'll pull you a card from the AMAZING Food Healing Deck to give you additional insight on how to feel better for a longer period of time.
Working with me is easy!
When you book ANY session, just choose a time most convenient for you.  You'll then receive an email confirmation right away with the link to join your session (if doing my video chat), along with a link just in case you need to reschedule or need to cancel the appointment for any reason.  You'll also receive a reminder e-mail 24 hours before your appointment.
If you have booked a healing, you'll be sent an email on how to prepare for your healing,  all you have to do is be open and ready to accept the healing.  There will be no phone calls or video chat, so it is completely okay if you book the healing while you are sleeping.  I will send you an email along with a chakra energy report, what to expect after your healing,  and card pulled for you from The Food Healing Oracle Card Deck.  
No. Currently, I am only offering distant healings.
Absolutely! All I need is a name to connect.
Based on your energy, (or preference when booking), I will do either Reiki Healing or Pranic Healing. Both are safe and highly effective. 
No worries! You can always email me with any questions you may have.. I promise, I don't bite. 
It's best to receive healing when your body is relaxed or even when sleeping. This is why I have chose early morning times when most are still sleeping. This way, you can wake refreshed and more healed! 
Definitely!  Even though you may not feel the energy, it has still come through you.  The energy goes where it is most needed.  So, even though you think you needed it in one area, it may have went to another area.
Looking for something else?