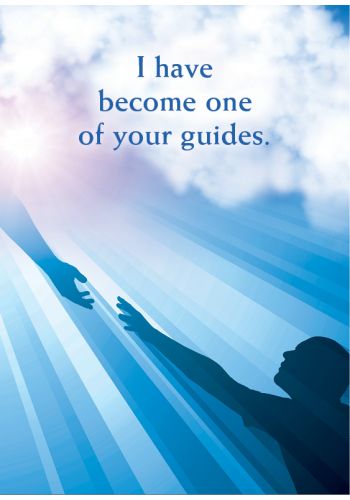 "I have become one of your guides."✨

Now that I've had time to process and learn from my earthly experience, I am working through my remaining life purpose by helping you with YOUR life purpose! It's a vicarious way for me to fulfill my destiny, as you fulfill your own. Please know that I'd never interfere with your freewill choices (although it's admittedly difficult at times to sit on the sidelines and watch you make choices that I – if I were asked – would advise you to make differently).
As one of your Spirit Guides, my role is simply to love you. All of the love that you receive from your many angels and guides is your shield that safeguards you in the face of stress and fear. Our collective love is healing, guiding, and protective. And know that you can call upon me or any of your angles or guides for assistance or comfort. We're always here for you!
Deck: Talking to Heaven Mediumship Cards
Author: James Van Praagh